This summer we had an amazing time in New York. We had never been to USA before so we didn't really know what to expect from the vacation and after the vacation, we had the feeling that 7 days were really less for a city which has so much to offer and we promised New York another visit in future. And even if you are not a fan of city trips, believe me, this is not just another city, it's an experience that you don't want to miss out on.
Now that you are also thinking of being a guest of this lovely city, you can get inspired by the 7 days itinerary we followed to get most out of the time we had.
I have also marked the places on google maps for quick access here.
So what are we waiting for? Let's get started.
Day 0 :
As we flew from Germany and arrived almost in evening, we didn't have much time to do anything on the first day. We took a shared shuttle from airport to our hotel directly at Central Park. As New York welcomed us with rains, with decided to just have dinner and call it a day. If you are staying near Columbus Circle subway Station, you find enough places to grab a quick bite around the Time Werner center. And guess what, if you come from Europe, you might find Whole Foods in Time Werner Center as fascinating as we did. If you are in no mood of giving thoughts to the topic of what to eat, Whole Foods has a lot to offer. We ended the day after eating at Whole Foods as jet lagged was also kicking in by then.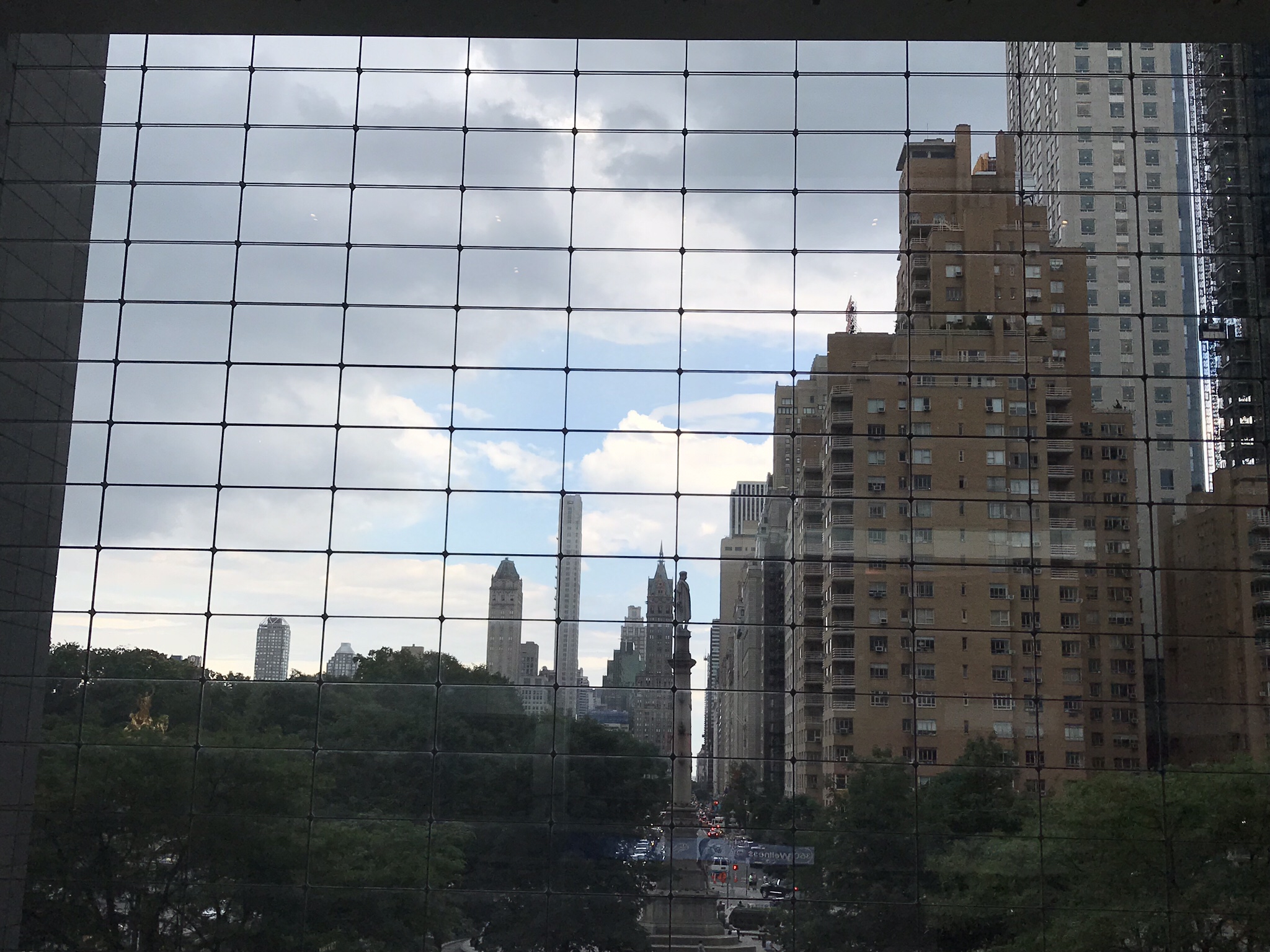 Day 1:
New York is widely spread and the only way you are going to see a lot of it in seven days, you need to go one part of the city at a time. First day we decide to stick around Midtown more and went to the places in following order:
Time Square : If you want to have the whole Time Square to yourself, start you day by checking it out first thing in the morning.
The Met : Trust me, you will love the metropolitan museum of art irrespective of your taste in art. You can easily spend a whole day here but consider on average 3 hours for this one.
Grand Central
Chrysler building, The Walldorf Astoria, trump tower, Tiffany and co.
Rockefeller Center and observatory : if you have a city pass which comes with multiple attractions, go in advance here and book your visiting slots to skip the long queues of people buying tickets on the spot. We were there on a summer evening with of light as we decided to experience the night New York from the Empire State Building.
Day 2:
On second day we mostly covered Ellis island and liberty island and downtown and financial district.
Staten Island ferry: if you only want to appreciate the lady liberty from open waters, this ferry is your best and free alternative. The views from the ferry are breathtaking.
Ferry to Ellis Island and Liberty Island: There is a ferry almost every 30 minutes from Battery park to liberty island and from there you can either go to Ellis island and visit the immigration museum or also return back to New York. Usually with the city pass, ferries to both the islands are included.
Charging Bull, Wall Street, NYSE : few 100 meters from Battery park is already financial district. Have a look at the Wall Street, eat at a food truck and have a look at the high skyscrapers.
One World Trade Center, 9/11 memorial and museum
Hook and Ladders: if you are a Ghost Busters fan, don't forget to pay a visit.
Central Park: you should still have some part of the day or evening left so head towards Central Park. Either rent a bike or stroll on feet. You will find plenty of Maps inside guiding you to strawberry fields, to Alice in the wonderland or to reservoir. Take your time to explore the place people of New York love.
Day 3:
After experiencing all the fast moving life everywhere in New York City, this day was different. It was the time to visit Brooklyn and Williamsburg. Spending only one day here doesn't do justice to what these areas has to offer. It's calmer and quieter on this part of the city and it's far less touristy (except Brooklyn bridge).
East river side park: Start the day in Williamsburg by appreciating the views of financial district across the river.
Williamsburg Bridge: we really tried hard to find a way to walk on the bridge but failed miserably.
Prospect Park: after spending few hours in Williamsburg, head towards Brooklyn and relax in Brooklyn's answer to Central Park. (Tip: if you happen to visit this part of the city on a Saturday, check the whereabouts of Smorgaburg food festival, we got lucky in Prospect Park)
Brooklyn Heights and promenade: walk through the posh areas of Brooklyn and experience the calmness.
Brooklyn Bridge Park
Jane's Carousel
DUMBO : walk to Manhattan bridge from Jane's carousel to get the iconic view of the bridge. You will know you are there when you a lot of People posing for the photos.
Brooklyn Bridge: walk back towards Brooklyn Bridge Park and go on the Bridge. Admire the views from the world famous bridge which connects the two parts.
Day 4:
On 4th day of our visit, we decidedly to cover Chelsea, little Italy and China town.
The High Line: the high line is a beautiful stretch of gardens on what was previously a train track. Go early morning for the best uncrowded views.
Chelsea Market: visit Chelsea market for amazing food experiences.
Anthropologie: If you are a girl or woman, don't forget to checkout this store directly in Chelsea Market. Their collection of clothes is just wow.
China Town: enjoy the variety of food here and experience the Chinese part of New York where you will see Chinese merchants selling stuff and everyone speaking in Chinese.
Mahayana temple: there are quite some Buddhist temples in the neighborhood. If you have some time, pay a visit.
Mulberry and canal street: this is your place for shop till you drop, so loosen up your wallets and go crazy.
Time Square at Night: if you haven't yet experienced time square at night, do it. Caution: there are going to be a lot of people but hey, that's part of the plan.
Day 5:
It's time to move towards upper Manhattan and Harlem. It is completely different experience what you get there as compared to midtown or downtown.
Columbia University : Start the day by admiring some great architectural buildings at Columbia university.
The cathedral church of St. John divine: not to miss the gothic architecture here.
Walk through Harlem
Morning side park
Apollo Theater
New York public library
Bryant park
Empire State Building: keep the whole evening reserved for this breathtaking experience. Now that you have watched New York during day time from Rockefeller observatory, it's time to see how it glows in the night. We spent easily 4 hours here waiting for the sun to go down and city to light up.
Day 6:
Fortunately this day was 4th of July for us, which we all know is a big deal in USA. So we didn't plan much for this day except Intrepid Museum.
Intrepid museum: if you want to see some cool fighter planes along with the carrier ship for them and also the space shuttle Enterprise from NASA is also up for display here.
Macy's fireworks: if you happen to be here on the Independence Day like us, don't miss the fireworks. You will see the city closing down for cars to make space to accommodate viewers for the fireworks. You will have to wait around 2 hours if you were the first one to reach for viewing but they are totally worth the wait.
Day 7:
Aah, it's already the day when we need to fly back in the evening. And we try to squeeze in one more museum.
Natural history museum : if you have full day at your disposal, plan half of the day for this gem. There are quite a lot of exhibits and shows keep happening. Everyone will find something for their taste (like me, I found dinosaurs)
Macy's: all the remaining little we had, we spent exploring some 10 floors of big Macy's store at Midtown. I wonder if you decide to visit every floor in peace, how many days it would take to cover everything.
More tips:
If you are there for a week, get the metro card for a week. It costs around 12 dollars and you can unlimited access to all subway lines and buses.
If you want to visit most of the museums and other cool attractions, go for city pass or New York pass. It offers you entries for multiple places of your choice at far lesser price and you wouldn't have to wait anywhere in queues to buy tickets.
When boarding a metro, check if it is express line. Express lines don't stop at all the stops on the way and checking it before hand will save you some track changes.
Think about the environment and avoid all the plastics wrapped take-aways.
If you are not a still water person, carry a empty bottle with you on your trip as the cheapest way to buy the sparkling water is in 2-3 liters bottles and then you can fill your bottle and take it with you.
If you are in desperate need of water, look around for a pharmacy, surprisingly you will be able to buy a lot more than just pharmaceutical products.
Follow us on social media: