Where to start with this one… Both me and my wife like to run. A lot. So when it was time to buy new shoes, I wanted to go to my default option: Brooks Adrenaline GTS. But after seeing some reports about the Nike's fancy shoes with a carbon plate inside them, I wanted to give them a spin.
Thanks to my health ensurance here in Germany, I got 20% of Nike and ordered the Nike ZoomFly 3 shoes. After a few days they arrived and the running could start. And boy how it started..
First run..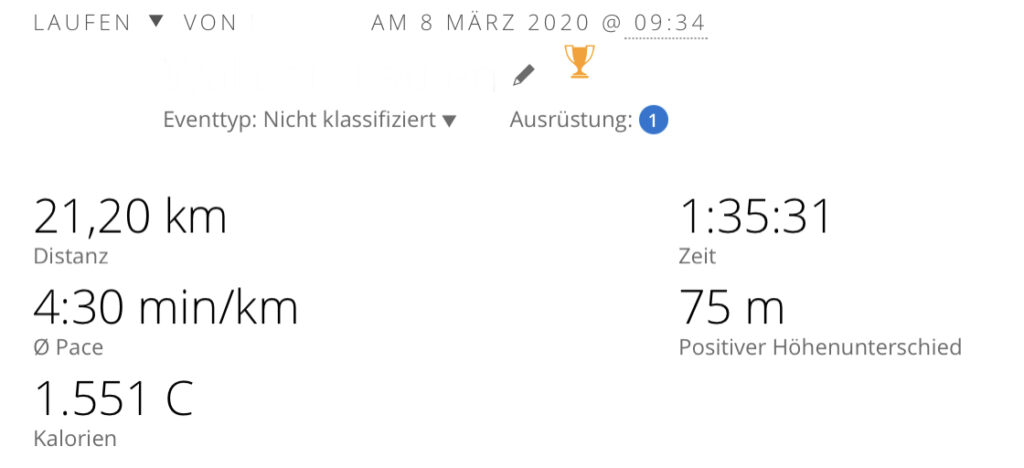 For the first run, I pulled a half marathon and beating my own time by around seven minutes. I was pretty happy with that. And afterwards it just got better.
.. and on..
It took me a few runs to get used to the shoes and how they work, as it is pretty much different from the Brooks Adrenaline ones but it was worth every step of the journey. Be it in dry or wet conditions they always performed, for as long as it was on concrete. Gravel was already not good, dirt basically a mess.
Once you get used to them, they really throw you just that little bit more forward. They are not really helping you to run faster in itself. Just to use less energy while running and that makes a huge difference. Even on bad days, the shoes just assisted me just that little bit that I needed to make a bad run still pretty average.
I used them heavily in the year and within six months I put around 585km on them and that was with another pair of shoes in my roaster.
After that many kilometers is the question: Were they worth it?
Yes, yes they are worth it. I just bought my second pair of the same model. Running with them is just motivating and a great experience.

.. to the last run
The last run? Oh that was a mess, the shoes are just done by now and I only managed eight kilometers on them. In the end of the lifetime they just get so soft. The curve for this is also pretty fast. They start out great but then within 50 km or so, they just gave up and I could feel that they feel wrong.
Comparing this to the Brooks shoes, which I typically can wear even after 800km as normal shoes, it is the only downer for these shoes. This is something Nike should definitely work on this and have the curve in which they deteriorate a bit more flat. It is okay to not wear them after they are done as normal day to day shoes, but at least they should not give up on you.
Wrapping it up
All in all I would highly recommend them if you run on a lot of concrete and want to try out a little assisted running.
Is it cheating? I don't think so, it is a great way to help the everyday runner to just be a bit better and learn more about their running style. They did it certainly for me.
Follow us on social media: