Now the summer is behind us and winter is heading our way, there will be less of sun around here in Germany, so I thought why not cut down on the products that I have to put on face as part of the morning skin care routine and try something multi-purpose. Being a big fan of brand CeraVe, I ordered the facial lotion for day time with comes with SPF25.
I have been using it more than a week now and I am ready to share with you guys the first impressions.
Ingredients
As all other products of CeraVe, it has 3 ceramides and also includes niacinamide as well. It includes Octocrylene as UV filter which abosrbs mostly UVB radiations and small specturm of UVA radiations.
AQUA/WATER, HOMOSALATE, GLYCERIN, OCTOCRYLENE, ETHYLHEXYL SALICYLATE, NIACINAMIDE, SILICA, BUTYL METHOXYDIBENZOYLMETHANE, DIMETHICONE, CETEARYL ALCOHOL, PEG-100 STEARATE, GLYCERYL STEARATE, PHENOXYETHANOL, STEARIC ACID, BEHENTROMONIUM METHOSULFATE, CAPRYL GLYCOL, PALMITIC ACID, AMMONIUM POLYCRYLOYLDIMETHYL TUARATE, XANTHAN GUM, DISODIUM EDTA, TOCOPHEROL, SODIUM LAUROYL LACTYLATE, MYRISTIC ACID, SODIUM HYALURONATE, CERAMIDE NP, CERAMIDE AP, PHYTOSPHINGOSINE, CHOLESTEROL, CERBOMER, ETHYLHEXYLGLYCERIN, CERAMIDE EOP
Consistency
This lotion has consistency and look of a typical sunscreen and as it has no mineral UV filters in it, it leaves no cast behind. Which makes it suitable for all skin-colors.
As you can see in the photos below, my skin being brown, there is no cast visible after applying the sunscreen.
How it feels on skin
I have oily skin and my previous combo of moisturiser and SPF-50 sunscreen left my face feeling not oily at all ( I used The Ordinary Natural mositurising factors + HA and La Roche Posay Anthelios SPF-50 chemical suncreen), I was also expecting the same matte finish with this 2 in 1 lotion, but to my wonders, it leaves the skin little more oily and sticky than expected.
But once it gets absorbed in the skin, it doesn't feel oily throughout the day and there is no shining effects.
How it feels around the eyes
As I cover my whole face and neck with sunscreen and previous sunscreen never burned my eyes, I also applied this one as well around my eyes normally.
Most of this week, it was cloudy and there was no burning happening but today the sun was shining and while taking a stroll to enjoy the sun, I could hardly keep my eyes open and the stingy feeling was very dominent. That makes it pretty much not usable around the eye areas.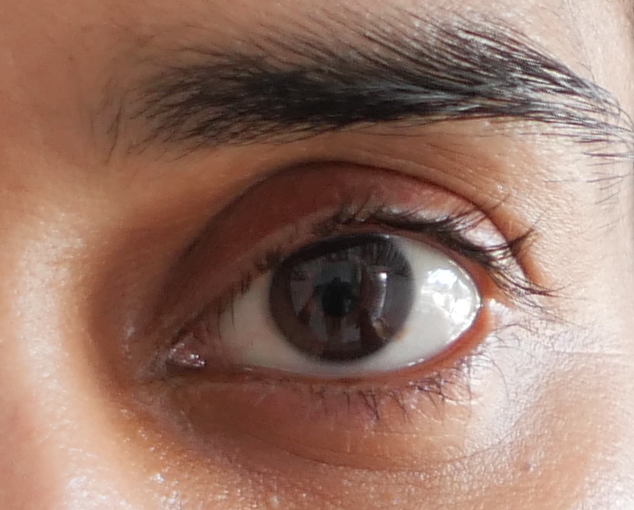 Verdict
I would still recommend this lotion as it has a lot of good ceramides in it and contains no fragerence.
If you are someone with dry skin, you might find it very hydrating.
Even though it only has SPF 25, for those dark grey winter days, it would still work fine and will save you from the damage caused to your skin by visible light and whatever UV rays you manage to get outside or through your windows. But for summer I would not go for something below SPF50, if you are someone (like me), who doesn't like to apply SPF every two hours.
If you have sensitive skin and cannot tolerate buring or stinging eyes, I would keep this lotion far far away from my eyes.
That was it for the review guys. I hope it will help you decide whether this is something for you or not. Don't forget to apply sunscreen and stay safe.
Follow us on social media: